The I-10 League is entering its third season with 15 member clubs for the 2021 fall season. The league has grown from 61 teams in 2020 to the present number of 80 teams. These teams come from four states that include: Louisiana, Mississippi, Alabama, and Florida. 
---

Get to Know ASG
ASG will be hosting the first I-10 League date in Tallahassee, FL on August 14th at the Meadows Sports Complex. 
Meet ASG coach Ashlee Fontes-Comber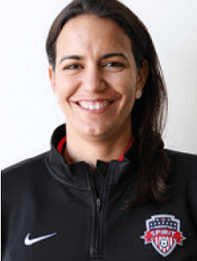 Ashlee's credentials: NSCAA (United Soccer Coaches) Premier, National Youth, Advanced National, National, Advanced Regional, and Regional Diplomas 
Coaching experience: 20+ years 
Favorite professional club: Portland Thorns FC 
Favorite professional player: Marta 
Favorite moments coaching: "When my players find their confidence by pushing their boundaries and realize their potential is limitless and in their control." 
Fun fact: Life long ambassador for the women's game! 
To learn more about ASG visit their website! 
---
What's next?
August 21st & 22nd in Foley, AL 
Hosted by Foley Sports Tourism
Future 2021 hosts:
FC Dallas Emerald Coast
Perdido Bay FC
West Florida Soccer Club
---
Referee I-10 League matches!
If you are interested in refereeing for the I-10 League, or know someone that might be, have them reach out to director@thei10league.com. 
---
Important Information
---
2021 participating teams of the I-10 League
ASG (FL)
Florida Roots FC (FL)
GulfSouth SC (FL)
FC Dallas-Emerald Coast (FL)
Bayside Rush (FL)
Perdido Bay Rush (FL)
Chivas FA (FL)
Destin FC (FL)
West Florida SC (FL)
Enterprise Select SC (AL)
Gulf Coast Rangers FC (AL)
Gulf Coast Texans-Mobile (AL)
Southern States SC (MS)
Gulf South Texans (LA)
New Orleans Spartans FC (LA)
---
Did you know?
The I-10 League is a US Club Soccer affiliated league.